HUNTING SEASON IS JUST AROUND THE CORNER. WE'RE GOING TO TRY SOMETHING DIFFERENT THIS YEAR. SINCE THERE ARE SO MANY DIFFERENT MANUFACTURERS AND CALIBERS AVAILABLE WE WOULD LIKE TO KNOW WHAT OUR CUSTOMERS WOULD BE INTERESTED IN. WE KNOW THE BIG BOX STORES HAVE MONEY TO STOCK MORE THAN WE CAN. WHY DON'T YOU GIVE US AN OPPORTUNITY TO SERVE YOU!
THANK YOU.
317 North California Drive
Coal Center, PA 15423
724-483-3363
SHOP HOURS
MONDAY, WEDNESDAY, THURSDAY, FRIDAY - 11:00AM - 6:00PM
TUESDAY - 12:00 Noon - 6:00PM
SATURDAY - 11:00AM - 3:00PM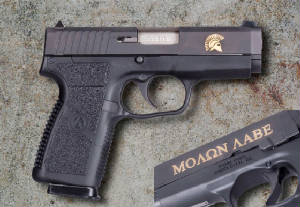 THIS IS THE KAHR CW9 MOLON LABE (COME AND TAKE THEM) SPECIAL EDITION -- ONLY 200 MADE

WE ARE A SOT CLASS 3 DEALER
CHECK OUT OUR SUPPRESSOR INVENTORY ON THE LEFT. WE CAN ALSO ORDER ANYTHING YOU DON'T SEE LISTED. IF YOU ARE INTERESTED PLEASE GIVE US A CALL. WE'LL WALK YOU THROUGH THE PROCESS.

FOR 24 HOUR SHOPPING PLEASE CLICK HERE!!!
We are now a stocking dealer for FrogLube!!! It's a revolutionary firearm treatment. It's not just a lubricant--it's a total firearm treatment!!! Check it out--No Rust, No Jams, No Problems!!!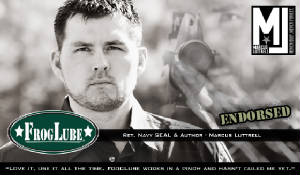 FOR FIREARMS INSTRUCTIONS WITH AN NRA CERTIFIED INSTRUCTOR PLEASE CLICK HERE TO GO TO FAST TACTICS WEBSITE. YOU WON'T BE SORRY!
WE ACCEPT VISA/MASTERCARD AND DISCOVER CREDIT CARDS WITHOUT ANY EXTRA CHARGE. LAYAWAYS ARE AVAILABLE ON SOME OF OUR FIREARMS. CHECK WITH US.
ALL SALES ARE FINAL!! IF YOU RETURN A FIREARM, OTHER THAN FOR REPAIR, WE ONLY OFFER STORE CREDIT.